Extreme Silk Face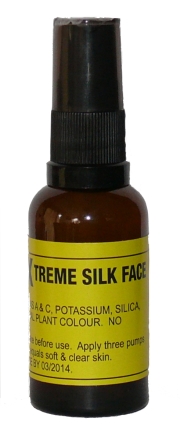 $ 40.00 AUD
Herbal Organic Moisturiser & Toner
Consists of - Vitamins A & C, Potassium, Silica, Jojoba and natural plant colour and No preservatives
This product is more amazing in the results that it gives, as its prime objective is to renew the skin by renewing cells, tightening the skin, fading blemishes, age spots and wrinkles.
This when applied at least twice per day to the face, neck and chest allows the surface of the skin to feel extremely smooth.
Due to its powerful ingredients, in some cases people who are toxic may show signs of eruptions and blackheads coming out
This is a good sign as it is removing hte toxins from the cells. The silk penetrates 3 layers deep and heals from the inside out. The silk helps re-hyhdrate the skin, which must slow down aging of the skin.